cus·tom-made
(kŭs′təm-mād′) – adj.
Made according to the specifications of an individual purchaser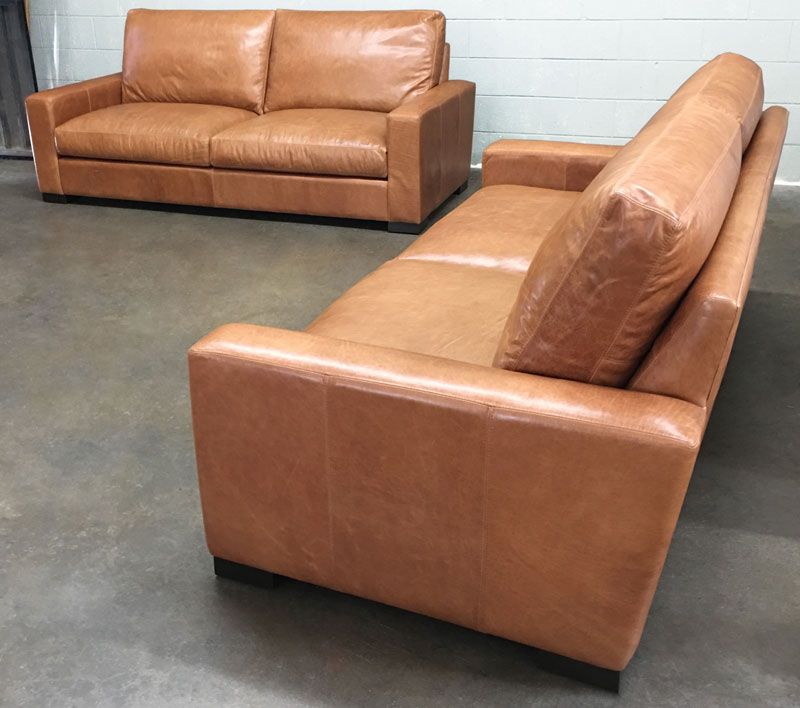 Buying custom leather furniture doesn't just mean picking a leather and leg color, custom means ordering something built to your specifications.  This customer in Canada took advantage of of one of our strengths when asking us to build a set of 84″ Braxton Leather Sofas in a 40″ depth.  We offer this style configurable on the site in both 43″ and 46″ depths, but also offer custom depth with our leather furniture.
After originally ordering and "Leather To Be Determined" (in order to get her order moving while samples were sent) this client landed on our Italian Mont Blanc Sycamore Full Grain Leather. This leather is Full Aniline dyed, and is the same classification or leather as our Italian Brompton leather (from the same tannery). As with Brompton, natural markings and color variation will be present, and this is a waxed pull-up leather that will distress and develop an amazing patina with use. It really just doesn't get much better than this!
View the entire Braxton Leather Furniture Collection
(American-made Leather Furniture)
https://www.leathergroups.com/shop/Braxton-Leather-Furniture-Collection.html